Diljit's gratitude towards Rihanna: The ongoing Farmers' protest in India is the most trending topic in the country right now. The buzz about the same has transcended borders and reached across the globe. The protest found a big leap in momentum yesterday when international star Rihanna chose to talk about it on her verified Twitter handle.
While her move was applauded, she also garnered respect and appreciation from Diljit Dosanjh, who has been a vocal voice amid the protest that has now been on for over a month.
If you have not been in sync with what's happening, the Government of India proposed new farm laws that have amendments that did not go well with the farmers. They thought it is not in their favour and decided to oppose. They have been on a non-violent protest since then until the republic day row, and have had a few talks with the government representative churning out no results.
Diljit Dosanjh expresses his gratitude towards Rihanna after she tweets in support of the farmers in India
Diljit also shared a Punjabi proverb on Twitter and wrote: "Jaat Di Kohr Kirli, Shateeriyan Nu Jaffe", which in English means that "your status in life is rather insignificant but you know how to talk big."
Check out the tweet:
Jaat Di Kohr Kirli
Shateeriyan Nu Jaffe…

— DILJIT DOSANJH (@diljitdosanjh) February 2, 2021
Diljit's Instagram story
Diljit Dosanjh took to his Insta-story and shared a picture of American singer Rihanna without any caption to express his gratitude after she tweeted in support of the protesting farmers in India. The picture was accompanied by her song, 'Run This Town'.
Check it out:
,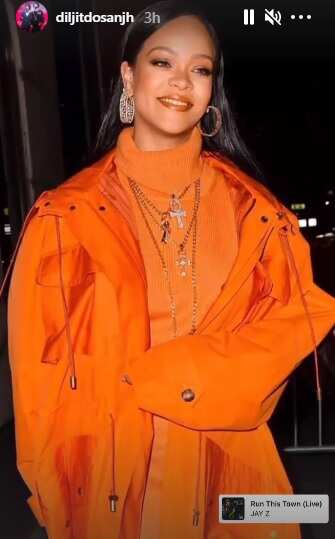 Rihanna had shared a picture of a report about the farmer protests and had written "why aren't we talking about this?"
Check out her tweet here:
why aren't we talking about this?! #FarmersProtest https://t.co/obmIlXhK9S

— Rihanna (@rihanna) February 2, 2021
Rihanna's tweet about Farmers' protest went viral in no time and Bollywood celebs like Hansal Mehta, Richa Chadha and Shibami Dandekar applauded her move. Meanwhile, Diljit Dosanjh was also very impressed with her stand.
After plethora of positive responses to her tweet, There are also some negative responses to Rihanna's tweet, Users say "It's a national issue and no outsiders are required to solve it"
Check out some replies here:
I get that someone is at fault but this is not a global issue. It's a national issue and whatever she says it doesn't matter. We need to solve this ourselves rather than adding outside people.

— Watching the Peak Fiction #AoT (@shingekinovipin) February 2, 2021
How's it your business? Let them handle their thing internally, they don't need foreign intervention, it only makes matters worse.

— Dnuof Ytitnedi (@Dulla_JayArr) February 2, 2021
This is what called Ecosystem.

Ask her to locate Delhi on the world map & she'll go Abba Dabba Jabba but tweeting so confidently like Delhi is her 2nd home….

— Mr Sinha (@MrSinha_) February 2, 2021
Bcoz this is the internal matter of my country,

Don't involve plz

— 🚩फाल्गुनी🚩😊 (@TThakurayan) February 2, 2021
Some users also replied saying "How much money have you taken for this tweet?" 
Check it out:
How much money u have take for this 🤔
Hope u will not fly away like @GalGadot after false patroing of protests ,for ur fake PR
Can't u seen this @_Pb_swain_ @rishibagree @BefittingFacts @VImvinit007 @iAnkurSingh pic.twitter.com/1d3L7XHOYR

— THAKUR_बिहार वाले (@uraj7777) February 2, 2021
Kita paisa li hai re iss tweet ka

— Aditya / आदित्य 👨🏾‍💻 (@AatmanirbharBro) February 2, 2021
Pls tell me the source from where you received the payment, so that i can also start talking about this pic.twitter.com/yVjBdouAv2

— the jadooguy (@JadooShah) February 2, 2021
paise diye he usko
ussi ka kaam kar rahi he

— Sir Yoda(Ex Harvard Prof) (@Mumbai_se_hu_BC) February 2, 2021

 
Diljit had also joined the protest last year at the Singhu border near Delhi. He had taken to his Twitter handle and wrote, 'We have only one request to Centre, please fulfil the demands of our farmers. Everyone is sitting here peacefully and the entire country is with farmers' Diljit and Kangana had a war of words last year after Kangana opposed the protesting farmers.
Diljit created a song RiRi, it was unbelievably quick!
Diljit shared a music video on youtube, showing his respect towards Rihanna, he created a song for her "RiRi" and people are loving it immensely! Diljit tweeted that the video will be up on youtube at 1:30pm.
1.30 PM on YOUTUBE ✊🏽@Thisizintense @raj_ranjodh pic.twitter.com/vxETpSOtwP

— DILJIT DOSANJH (@diljitdosanjh) February 3, 2021
Diljit Dosanjh drops new song RiRi, in honour of Rihanna, calls her a gift from God https://t.co/xkE26CNPbk

— Hindustan Times (@HindustanTimes) February 3, 2021
RiRi (Rihanna) Song By Diljit Dosanjh | Intense | Raj Ranjodh
Have a look on the video:
Users commented on the youtube video showing love.
Here are some of the comments:
"Man was quicker than the government in responding to the tweet."
"Other artist are busy dropping disstracks to insult each other and here dilijit paid respect to rihanna in few hours. That's how you use your art. Diljit ne dil jeet liya yarrrrr."
"Meanwhile kangana crying at corner after realising that he didn't make a song on her."
"The reason why he is a G.O.A.T."
The comment section is full of positive comments!!
TWITTER REACTIONS:
@diljitdosanjh Man woke up today and said "Ik vaari hor" 🔥😎

.
.
.#DiljitDosanjh #DiljitVsKangana #Riri #Rihanna #RihannaSupportsIndianFarmers

— Shreesh Kakkar (@KakkarShreesh) February 3, 2021
Thank you Riri for making some noise for the farmers – but too much attention on Rihanna let's not lose focus on the subject at hand pls… 🙏🏽

— Sound Boy (@DjPinkz) February 3, 2021
YOU THE GOAT AND SO IS RIRI @rihanna

— ਸੰਦੀਪ sandy (@sipusinghhhh89) February 3, 2021
Bhaji osum song 😍😍 lyrics sunke maza aa gaya 👌👌

— Gagan Bhatia (@gaganbhatia659) February 3, 2021
What is your take on Rihanna's comment about the ongoing Farmers' protest and what are your views on the song RiRi by our King Diljit?